Craft Kitchen and Brewery
Takeout and Delivery!!!
We are open with temporary hours to keep the beer and food coming. Our hours will be 12PM-7PM Wednesday through Saturday all things to go. Call us at 541-668-1766 to place an order. You can also find us on Bend Take Out and Door Dash. We want to thank each and every one of you for supporting ALL local businesses. *All events cancelled until further notice*.
We always have something up our sleeve at Craft. Stay on top of our latest news right here on the website. Follow us on Facebook and Instagram for even more content and happenings. We are highly involved in our community, love to give back, and hope to bring awareness to some great causes.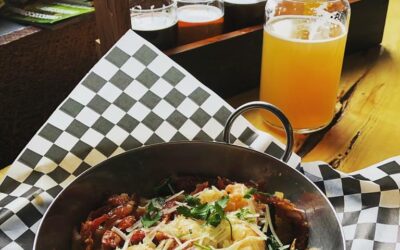 We're excited to announce that an on-demand dish we've been cooking up by request is going to be on the menu as a regular item in the future. Sauteed shrimp, Parmesan grits, spinach and sun-dried tomatoes cooked up with a jalapeno honey sauce. Yum!
Wednesday – Saturday
11:30am – 9:00pm
Our Address
62988 Layton Ave #103, Bend, OR 97701