Thank you Oregonlive.com for the mention! We love our patio space, too!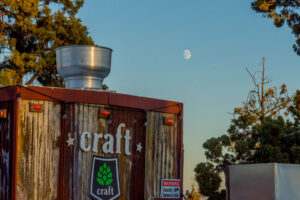 "Craft Kitchen & Brewery
Description: Go for the enticing menu, stay for the beer and the cozy patio. Picnic tables, fire pits and barrels are your gathering spots, and while the outside space isn't huge, there's room to bring the dogs and kids. And the inside space offers live music and comedy performances.
The beers: Whether you're ordering a Po' Boy, Cubano, barbecue combo, salad, sando or taco, there's a beer here that will pair well. Pub styles dominate, with a porter, pale, amber and IPA, plus a hefeweizen and a couple of lagers. My pick: Nibbling from various plates, I needed a beer that was nimble, easy-drinking and didn't dominate. The answer: Layton, a light-bodied American lager.
The food: Barbecue is primary on a menu that offers other creative delights. I had the burnt ends and sides. I ate it all."
See the full article here.